RAUN- Rannsóknarstofa um náttúrufræðimenntun  fær góða gesti miðvikudaginn 21. maí  kl.15:00-17:00 í stofu H101 í húsnæði Menntavísindasviðs HÍ við Stakkahlíð. Þeir Brant G. Miller frá Háskólanum í Idaho og Joel Donna frá Háskólanum í Minnesota koma og verða með erindi um tvö verkefni tengd náttúrufræðimenntun. Ágripin má finna á ensku hér að neðan. Allir velkomnir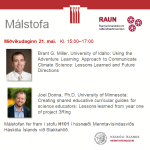 Title: Using the Adventure Learning Approach to Communicate Climate Science: Lessons Learned and Future Directions
Abstract: Effectively communicating scientific research has taken on greater importance as climate change increasingly impacts the world we live in. It is incumbent upon the science and education communities to produce and deliver curriculum that is timely, accessible and scientifically accurate. The United States' National Science Foundation (NSF) has spotlighted this need through an emphasis on the broader impacts of research projects through education and outreach activities. In the summer of 2012 scientists and educators worked together to develop and conduct the Adventure Learning @ Greenland (AL@GL) project, an NSF funded initiative, which explored the capacity of hands-on and web-based climate science education experiences that occurred in Greenland and the US. The Adventure Learning approach was used to design the learning experience during AL@GL activities. Adventure Learning is defined as "a hybrid distance education approach that provides students with opportunities to explore real-world issues through authentic learning experiences within collaborative learning environments" (Doering 2006, p. 198). Students participating in AL@GL were diverse, rural, and traditionally underrepresented; and were from Greenland, Denmark, and the US. Participating students worked closely with educators and scientists to learn about an atmospheric observatory at Summit Station located on the Greenland Ice Sheet, known as the Integrated Characterization of Energy, Clouds, Atmospheric state and Precipitation at Summit (ICECAPS). In his talk Dr. Miller will discuss the AL@GL project and the newly developed curriculum model called Content, Transition, Inquiry, and Synthesis (CoTIS). Additionally, there will be a discussion of how Icelandic students, teachers, and scientists can engage in future Adventure Learning initiatives.
Bio: Brant G. Miller is an assistant professor of science education and technology at the University of Idaho. His research interests include technology integration, Adventure Learning, and culturally responsive approaches to STEM education.
Title: Creating shared educative curricular guides for science educators: Lessons learned from year one of project 3Ring
Abstract: Poor student performance on international, national, and state exams shows that students in the U.S. lack science know-how as compared to many international peers.  Additionally these assessments show that not all of our students are performing equally.  Students are not developing the STEM content knowledge or skills needed to meet the increasing demands within industry, research, or society. The evidence is strong that a high-quality teacher that helps students learn science by doing science is the most important factor in student achievement.  Yet despite extensive teacher preparation and ongoing professional development, these types of instruction that engage all students and can close achievement gaps are not happening in classrooms. The reasons for this are many, including lack of teacher content knowledge, lack of quality instructional resources, and a lack of planning time to support their teaching in research-based ways.
3Ring envisions a world where the science education community of master teachers, educational researchers, policy makers, and STEM workforce leaders are brought together to empower middle and high science teachers so that ALL their students may learn and love science.  3Ring combines web-based technologies, open content licensing, and the science education community's expertise to develop educative curriculum guides and lesson building tools for science teachers. Together 3Ring curriculum guides and lesson building tools bridge a teacher's professional development and their classroom practice towards increasing teacher effectiveness, teacher retention and thus student outcomes.
Dr. Donna will share the theoretical framework and research supporting 3Ring, sample resources and tools, and pilot study results. He will also share lessons learned from the first year of this project by exploring the tensions of adaptive problem solving within 3Ring's design, development, testing, and distribution of curricular guides. For example, he will explore the vision of "teacher as implementer of instructional materials" which dominates much of the textbook industry versus "teacher as creator of instructional materials" which dominates much of the teacher preparation world, to share that the answers to supporting teachers may live somewhere between these two visions. In addition, he will share qualitative pilot study results from 3Ring's first educative guide from an urban school district and the ongoing quantitative studies to assess the effectiveness of 3Ring approaches.
Bio: Joel Donna, Ph.D. is a former rural Minnesota science teacher. He has expertise in research and development using technology to support beginning teachers and technology integration in the science classroom. He served as the STEM Specialist for the State of Minnesota and is currently on leave as a Lecturer in the University of Minnesota Learning Technologies. Joel is a current a Bush Leadership Fellow and is the President and CEO of the non-profit organization, 3Ring.